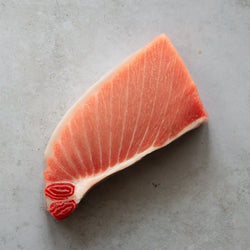 BLUEFIN TUNA - OTORO SLICE
FUENTES - WILD-CAUGHT - FARM-RAISED BLUEFIN TUNA. SASHIMI GRADE* AAA #01 Bluefin tuna is a delicacy appreciated worldwide for its outstanding culinary and nutritional properties. Only a few products can make all the difference in the kitchen, and bluefin tuna is one example: a great ingredient worthy of the utmost care and respect. Our  Bluefin Tuna comes from FUENTES - the world leader in bluefin...
Learn more
FUENTES - WILD-CAUGHT - FARM-RAISED BLUEFIN TUNA.

SASHIMI GRADE* AAA #01
Bluefin tuna is a delicacy appreciated worldwide for its outstanding culinary and nutritional properties. Only a few products can make all the difference in the kitchen, and bluefin tuna is one example: a great ingredient worthy of the utmost care and respect.
Our  Bluefin Tuna comes from FUENTES - the world leader in bluefin tuna production; for over 30 years, their bluefin tuna has been the first choice in the most demanding market: Japan. Fuentes provides the finest bluefin tuna, maintaining all its taste and texture intact, with precisely the right level of fattiness and full guarantees in terms of health and respect for the species and its habitat.
Fuentes is also the world leader in pioneering the traceability process that enables individual identification and accreditation of every single tuna and its parts. For each piece of Bluefin tuna that they sell, Fuentes has a complete record of the Microbiological analysis and fat content of the tuna and can trace the product back to the sea. 
Fuentes Bluefin tuna is caught using the 'purse-seine technique, a highly sustainable fishing method designed for the non-capture of smaller fish. It also allows for the reproductive activity of the tunas even after their capture. ICCAT, a worldwide regulatory authority, allocates fishing quotas. Furthermore, a good portion of the generated income from the tuna is used to fund scientific research projects that directly support the sustainability of this prized species.

Bluefin tuna has been a notable feature of the Mediterranean diet for centuries, thanks to its numerous health-giving properties. Omega-3 fatty acids are one of its key features. It is also rich in minerals such as selenium, phosphorus and magnesium and provides a range of vitamins (A, B, B3, B9, B12 and D), as well as an outstanding source of high-biological value protein.
Our commitment is to guarantee a supply of bluefin tuna to our customers, offering the utmost quality and full guarantees regarding food safety and respect for the species and its habitat. 
*SASHIMI Grade refers only that we, the seller, have judged this product safe to eat raw.
AKIMI - The Prime Cut Par Excellence
Akimi is the most commonly used cut of tuna and is cut from the loin. It is low fat, high protein and healthy. It is better for raw preparations such as tartar and nigiri.

TORO - Fatty Tuna
Toro the fatty part of the tuna that comes from around the belly of the fish. It has a soft texture and melts in the mouth. It is the most expensive part of the tuna; each fish offers only a minimal quantity.
The toro is split into two parts otoro - the most highly prized and chutoro. 

Chutoro is the belly area known for its medium fatty quality ad the middle part between the Otoro and Akimi. Chu means 'middle' in Japanese; it is not too fatty nor too lean. It is similar to the Akimi with the addition of slight sweetness and a more pinkish colour graduating to deep red because of the higher level of fattiness at one end. 

The Chutoro is perfect for serving raw. As sashimi, sushi, tartar, ceviche or simply grilled or barbecued, the result is outstanding.
Otoro is the most prized and comes from the belly, which is the fattiest part of the tuna, The most legendary cut of tuna, and one of the most highly prized by lovers of fine cuisine. With a pinkish colour and silky, highly delicate texture, the belly, known as "Otoro", is found at the base of the lower loin and contains the highest fat level.
The undisputed star of raw dishes, such as sushi, tartar and sashimi, although its versatility also allows it to shine in other forms, such as grilled, barbecued or in a range of casseroles. Some chefs cook it to create a striking roasted crust.
Buying & Preparation.
Before buying, we inspect each Bluefin tuna as a whole fish to guarantee the flesh's freshness, grade and colour. Whole tunas are air freighted to London each week. We watch as the tuna is butchered into its main parts, then select only the premium parts of the belly and the loin. 
Our in-house tuna specialist does further preparation. Working in the coldest hour before dawn to not raise the temperature of the prized flesh, each cut and slice is made from the finest Japanese steel, and each piece of tuna is carefully handled and guaranteed exquisite quality.
Preparation
To offer the best quality fish, once cut, we blast freeze the tuna to -30°c. This process is essential to optimise the freshness of the meat, as fresh tuna flesh deteriorates very quickly. The freezing process kills off microorganisms, ensuring the tuna is perfectly safe to eat as a raw product.
The tuna is then transferred to storage at -50°c to preserve the colour and freshness of the fish and ensure no deterioration of the flesh takes place over time. 
The image is of a 450g Bluefin Tuna Otoro Slice. Please note that shapes vary.
Less
SELECT YOUR DELIVERY DATE AT THE CHECKOUT (TUES - SAT)
COURIER DELIVERY (Tuesday-Saturday)
SHIPPING RATES (UK MAINLAND ONLY)
Please ensure you select the correct shipping option at the checkout. 
| | |
| --- | --- |
| EXPRESS BY END OF DAY (Tues-Sat) | £8.50 |
| EXPRESS BY 10.30AM  (Tues-Fri) | £18.50 |
| EXPRESS BY 1PM (Tues-Fri) | £12.50 |
| SATURDAY BY 1PM | £24.50 |
DELIVERY DATE SELECTION
All orders received before 2pm can be dispatched the same day (Mon-Fri), unless a specific future date is selected using the drop down calendar on the basket page of our website. 
For future date deliveries select the Express delivery option that best suits your needs, End of Day. Pre-1pm or Pre-10.30am. We deliver Tuesday through until Saturday, we do not deliver on Sunday.
EXPRESS DELIVERY
All of our parcels are shipped on an express next working day service as standard, on the day before you have selected to receive it, usually with DPD or DHL. In accordance with all UK courier terms and conditions it is not guaranteed that your parcel will arrive the next day. Please consider this when planning for an event or party whereby goods absolutely have to be delivered on time. 
If your parcel is time sensitive then please use the EXPRESS BY 10.30 AM or EXPRESS BY 1 PM option.
CHANGES TO YOUR DELIVERY 
Any attempt to change your delivery address or divert your parcel once it has been despatched is done so at your own risk.  Please make sure all delivery information is correct when placing your order.  We cannot be liable for loss or delay of parcels whereby the customer has requested to change the delivery address whilst their order is in transit, this includes the request made to deliver to a pick up shop.  There can be a minimum of a 24 hour delay when choosing to divert your parcel to a DPD pick-up shop so choosing this option or 'leave in a safe place' is done at your own risk.  We cannot be liable for theft or spoilage of goods whereby you were not available to personally receive them on the day you requested on the calendar.
SATURDAY DELIVERY
If you have selected Saturday as a delivery date please be aware that over the weekends we have no access to courier phone or email support so it is essential that you provide any 'additional delivery information' in the "notes" section when placing your order so you parcel is successfully delivered.
Saturday delivery is available for UK mainland only.
LOCAL PICK UP
You can collect your order from our warehouse between 8am - 5pm Monday - Friday. Simply select the PICK UP option after the basket page of our website at the checkout. Your order can be ready to collect within 30 minutes. Please feel free to call us to arrange if the date you selected on the basket page refers to courier delivery (Next Day). +44 (0) 1732 757 770
PACKAGING
For the shipping fresh and frozen goods we use high quality mixed recyclable insulated packaging to keep your products perfect through the courier network.
To keep frozen goods at the correct temperature we use a safe alternative to dry ice.  These gel packs freeze to a temperature of -45° and stay frozen for an extended period of time. Completely food safe and fully recyclable/reusable.
JERSEY, ISLE OF MAN & NORTHERN IRELAND 
Jersey or Isle Of Man delivery days are Tuesday to Friday from £35. Please select the Jersey option at the checkout.
For Northern Ireland please select our standard shipping service. We do not deliver on to Northern Ireland on Saturdays.
SELECT YOUR DELIVERY DATE AT THE CHECKOUT (TUES - SAT)
TRANSIT TIMES & PACKAGING
All ingredients that we sell are hand selected choosing from the best product available.
We only use premium express courier services and aim to have produce out of our hands and into yours in the shortest possible time.
All perishable goods orders are safely packed in thick, wool lined, insulated boxes with Eco friendly Ice packs, guaranteeing freshness for a minimum of 2 full days in transit. Much longer in colder seasons.
FROZEN PRODUCTS
The vast majority of frozen food shipments arrive frozen but we cannot guarantee this.  In the event that your order has defrosted it should still be at a very low temperature when you receive it and therefore fine to put in straight in your freezer.  Refreezing is only unsafe if the product has reached 8°c. It is worth mentioning that supermarkets routinely sell defrosted food as "fresh", with the advice that it may be frozen when you get home.
FRESH TRUFFLES
All fresh truffles are sent in a foil resealable pack with an absorbent paper.  This is suitable for storing in your fridge.  If storing truffles for more than a few days we recommend wrapping them in paper towel or using a Tuberpac.  Fresh truffles are always best consumed as soon as possible.