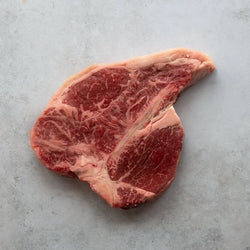 MIGUEL VERGARA ANGUS - PORTERHOUSE STEAK
The Miguel Vergara Angus distinctive designates specimens of this breed that have superior gastronomic qualities, standing out for their intense flavour, high degree of infiltration, incredible juiciness and tender character that melts in the mouth.
They are raised between the meadows of Salamanca and the mountains of Leon in Spain. These surroundings offer a tranquil lifestyle for the herd.
Miguel Vergara's process is considered the highest standard in animal welfare, with comfortable conditions specifically created to maximise the development of the colour, juiciness and intra-muscular fat.
These animals are 300-day, grain-fed. They consume a mix of top-quality cereals, legumes, oils (mainly soybeans) and straw to provide a balanced diet adjusted to the needs of each growth phase.
This meat is aged, and during the 21-day process, the loins of the Angus will rest in dry ageing chambers where the meat acquires a unique feature of tenderness. The duration of the drying is what gives every piece an intense flavour, ideal for refined palates.
This delicious cut from the lower back comprised two of the noblest pieces of beef, the sirloin and the fillet. 
T-Bone Miguel Vergara Angus is made from selected animals from cabins in the Salamanca meadow and the mountains of Leon to obtain a product with unique sensory characteristics. In this way, a cut is obtained in which all the characteristic nuances of the Angus breed are perfectly appreciated: delicate marbling of infiltrated fat and a smooth texture, with an unmistakable aroma, incredible juiciness on the palate and a succulent and delicious flavour.
Origin: Spain
IQF Frozen. The steaks are cut here in the UK and then rapidly frozen to -28° in a matter of minutes. This process offers two major advantages, one being zero food waste and the other helping to keep the meat in amazing condition. Red meat naturally discolours after a few hours so blast freezing is the ultimate way to keep the steak as fresh as it is when first cut.
SELECT YOUR DELIVERY DATE AT THE CHECKOUT (TUES - SAT)
COURIER DELIVERY (Tuesday-Saturday)
SHIPPING RATES (UK MAINLAND ONLY)
Please ensure you select the correct shipping option at the checkout. 
| | |
| --- | --- |
| EXPRESS BY END OF DAY (Tues-Sat) | £8.50 |
| EXPRESS BY 10.30AM  (Tues-Fri) | £18.50 |
| EXPRESS BY 1PM (Tues-Fri) | £12.50 |
| SATURDAY BY 1PM | £24.50 |
DELIVERY DATE SELECTION
All orders received before 2pm can be dispatched the same day (Mon-Fri), unless a specific future date is selected using the drop down calendar on the basket page of our website. 
For future date deliveries select the Express delivery option that best suits your needs, End of Day. Pre-1pm or Pre-10.30am. We deliver Tuesday through until Saturday, we do not deliver on Sunday.
EXPRESS DELIVERY
All of our parcels are shipped on an express next working day service as standard, on the day before you have selected to receive it, usually with DPD or DHL. In accordance with all UK courier terms and conditions it is not guaranteed that your parcel will arrive the next day. Please consider this when planning for an event or party whereby goods absolutely have to be delivered on time. 
If your parcel is time sensitive then please use the EXPRESS BY 10.30 AM or EXPRESS BY 1 PM option.
CHANGES TO YOUR DELIVERY 
Any attempt to change your delivery address or divert your parcel once it has been despatched is done so at your own risk.  Please make sure all delivery information is correct when placing your order.  We cannot be liable for loss or delay of parcels whereby the customer has requested to change the delivery address whilst their order is in transit, this includes the request made to deliver to a pick up shop.  There can be a minimum of a 24 hour delay when choosing to divert your parcel to a DPD pick-up shop so choosing this option or 'leave in a safe place' is done at your own risk.  We cannot be liable for theft or spoilage of goods whereby you were not available to personally receive them on the day you requested on the calendar.
SATURDAY DELIVERY
If you have selected Saturday as a delivery date please be aware that over the weekends we have no access to courier phone or email support so it is essential that you provide any 'additional delivery information' in the "notes" section when placing your order so you parcel is successfully delivered.
Saturday delivery is available for UK mainland only.
LOCAL PICK UP
You can collect your order from our warehouse between 8am - 5pm Monday - Friday. Simply select the PICK UP option after the basket page of our website at the checkout. Your order can be ready to collect within 30 minutes. Please feel free to call us to arrange if the date you selected on the basket page refers to courier delivery (Next Day). +44 (0) 1732 757 770
PACKAGING
For the shipping fresh and frozen goods we use high quality mixed recyclable insulated packaging to keep your products perfect through the courier network.
To keep frozen goods at the correct temperature we use a safe alternative to dry ice.  These gel packs freeze to a temperature of -45° and stay frozen for an extended period of time. Completely food safe and fully recyclable/reusable.
JERSEY, ISLE OF MAN & NORTHERN IRELAND 
Jersey or Isle Of Man delivery days are Tuesday to Friday from £35. Please select the Jersey option at the checkout.
For Northern Ireland please select our standard shipping service. We do not deliver on to Northern Ireland on Saturdays.
SELECT YOUR DELIVERY DATE AT THE CHECKOUT (TUES - SAT)
TRANSIT TIMES & PACKAGING
All ingredients that we sell are hand selected choosing from the best product available.
We only use premium express courier services and aim to have produce out of our hands and into yours in the shortest possible time.
All perishable goods orders are safely packed in thick, wool lined, insulated boxes with Eco friendly Ice packs, guaranteeing freshness for a minimum of 2 full days in transit. Much longer in colder seasons.
FROZEN PRODUCTS
The vast majority of frozen food shipments arrive frozen but we cannot guarantee this.  In the event that your order has defrosted it should still be at a very low temperature when you receive it and therefore fine to put in straight in your freezer.  Refreezing is only unsafe if the product has reached 8°c. It is worth mentioning that supermarkets routinely sell defrosted food as "fresh", with the advice that it may be frozen when you get home.
FRESH TRUFFLES
All fresh truffles are sent in a foil resealable pack with an absorbent paper.  This is suitable for storing in your fridge.  If storing truffles for more than a few days we recommend wrapping them in paper towel or using a Tuberpac.  Fresh truffles are always best consumed as soon as possible.